Café is one of the most reliable premium brands in the industry. Known for its predictable performance, they have embraced the quad-door refrigerator. With four doors, you only open as much of the refrigerator as you need in order to keep the cool air inside. This leads to better food preservation and more energy efficiency for your home. This new model from Café boasts several features that will change the way you think about refrigeration.
Platinum Glass Finish
Angular, modern lines and the striking glass finish creates an easy-to-clean, contemporary look for your kitchen. This awe-inspiring contemporary design creates a new focal point for your kitchen and fits your unique, personal style.
Interior Features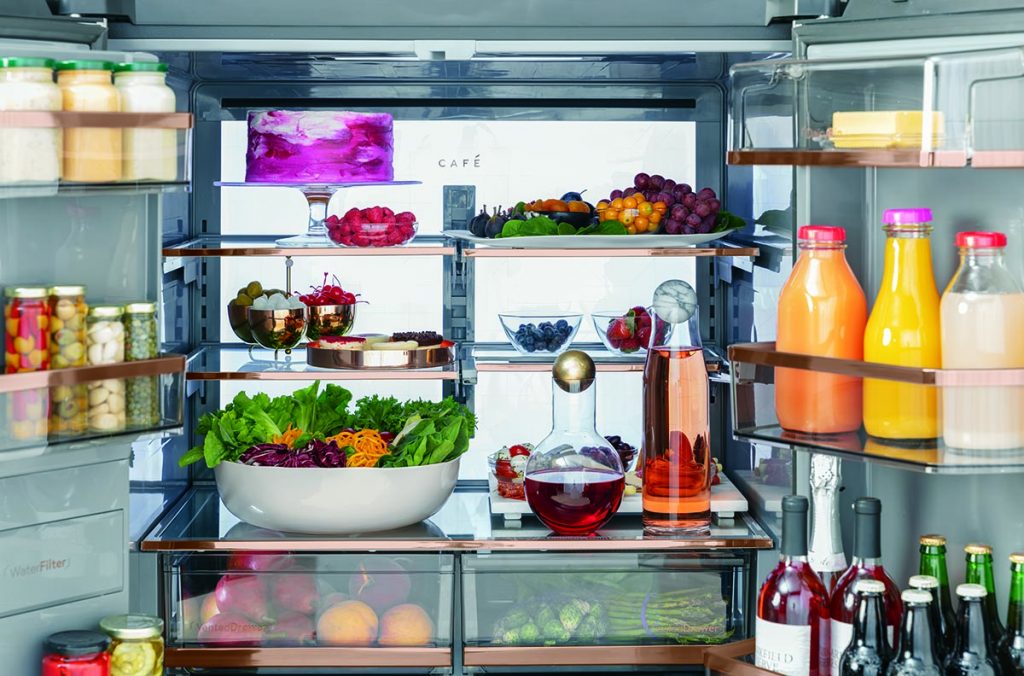 Forget using a single light bulb to light up the interior of the refrigerator. The entire back wall of Café's Quad Door refrigerator is illuminated by a brilliant LED light panel with a geometric overlay inspired by Art Deco design. Each time the door opens, the light wall with a metallic frame creates a compositional moment. The light gray interior cabinet and copper-trimmed shelves add to the richness and drama of the overall design.
Convertible Temperature Zone
Form meets function with a fully convertible temperature zone that can be set to Freezer, Wine, and Refrigerator temperatures to accommodate every scenario from a dinner party to a large grocery haul. This fully convertible zone has sophisticated temperature settings designed to complement your lifestyle. From fresh food to full freeze, this is the perfect place to chill your signature beverage, freeze delicious sorbet, or refrigerate party platters.
Convenient Storage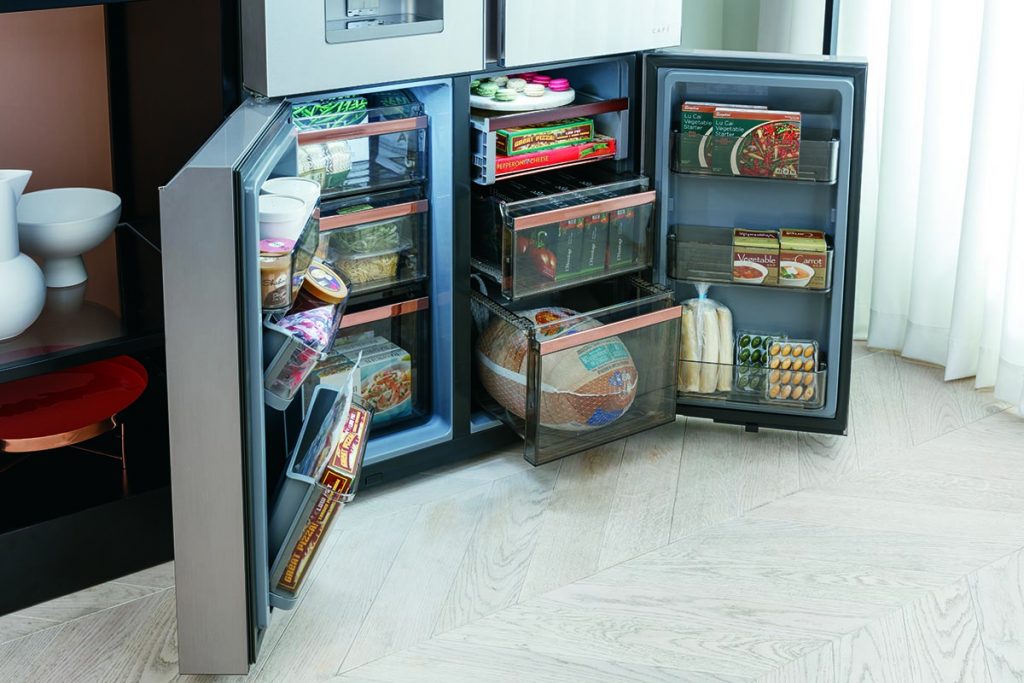 Organize your freezer with ease, thanks to storage options that include five drawers, two tilt-out door bins, a slide-out shelf, and more. In the refrigerator, keep your produce fresher with a Humidity Control System in two distinct bins–a sealed, high-humidity bin that preserves leafy green vegetables longer and a vented bin that provides the perfect environment for fruits.
Hands-Free Autofill Water Dispenser
Effortlessly fill containers with filtered water by simply pressing the Autofill button, which uses sensors to dispense the perfect amount every time.
Other manufacturers are creating quad door refrigerators, but this is the first model available in the U.S. that fits a standard 70-inch cabinet cut-out. You will be impressed with this model from the moment you see it in our showroom. We can't wait to show you everything this refrigerator has to offer.