In every neighborhood, there is one house—the cool house—where kids tend to congregate. Chances are, that's by design. Many parents take comfort in having their young children, teenagers and a gaggle of friends close at hand; they want their home to be the preferred gathering place. If your clients are among this group, here's why a hearth oven from Monogram would be the perfect addition to their kitchen plan.
PIZZERIA RESULTS AT HOME
While an exact, hip-hangout formula may be hard to pinpoint, yummy snacks are definitely part of the equation. And what kid, or adult for that matter, doesn't love fresh pizza? Monogram's Smart Hearth Oven replicates the professional performance of a traditional coal- or wood-fired oven. This electric appliance makes turning out restaurant-quality pizza at home a snap. The results are sure to wow the entire clan, as well as guests.
PRECISION AND EASE
The hearth oven's electric heating zones consistently produce brick-oven-style pizza, with a crisp crust and perfectly baked toppings, in a matter of minutes. Using simple touch controls, the home chef can select among preset cooking options—and can choose the family's favorite pizza style, be it Neapolitan, New York, or Detroit. Pre-programmed temperature settings range from 80F to 1,300F, allowing adventuresome gourmets to effortlessly branch out and create artisanal bread, crispy-skin fish, and much more. For even greater ease, the smart oven's built-in WiFi syncs with voice assistants.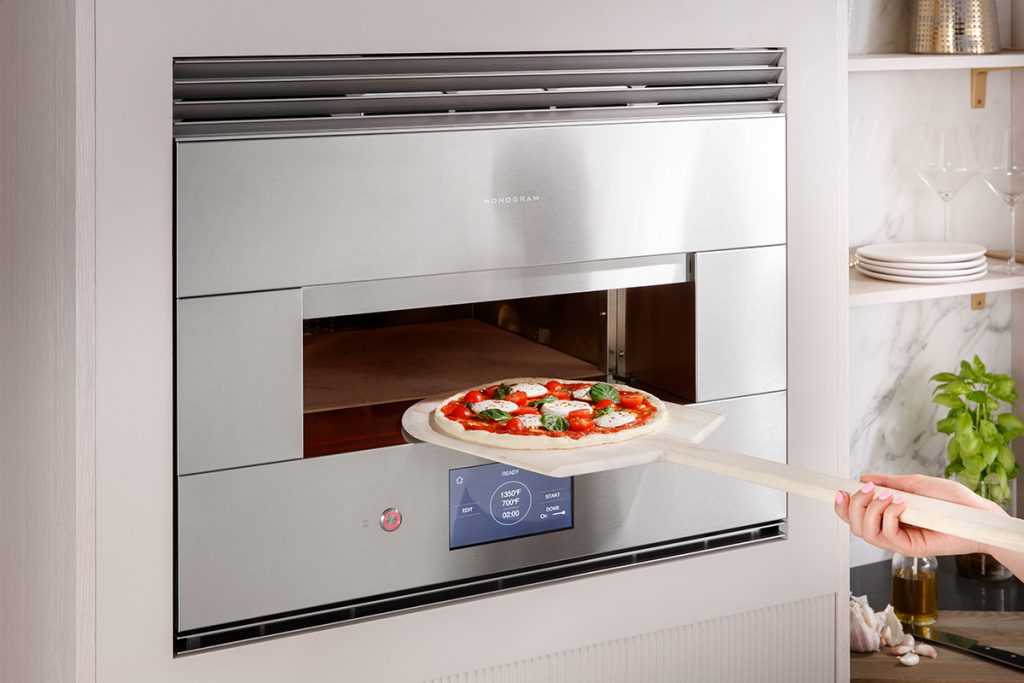 STYLISH DESIGN & SEAMLESS INSTALLATION
Monogram wraps the hearth oven's powerful cooking technology in handcrafted luxury. Part of the brand's Statement Collection, the specialty appliance features a restaurant-inspired, brushed-stainless-steel exterior that will blend beautifully with any scheme. The 30-inch, built-in oven installs flush with surrounding cabinetry for a streamlined look. An integrated ventilation system facilitates installation and requires no additional ductwork. Add a warming drawer below for the ideal set-up.
Hot pizza is always a crowd-pleaser, whether there's a handful gathered for family movie night or the whole neighborhood gang is hanging out. Monogram's Smart Hearth Oven dishes out pizzeria-worthy pies that will keep them coming back. To learn more, consult a Friedman's Appliances expert.