When you walk into a showroom to consider purchasing a car, you know what to expect. If you go into a dealership where most cars cost below $30,000, then you anticipate a standard car-buying experience. But when you walk into a high-end dealership where cars can reach $80,000 and more, you expect more. You expect a better experience and that you will eventually pay for that experience. We tend to associate high-end brands with high expenses, but it's time to debunk the myth that high-end always equals high costs.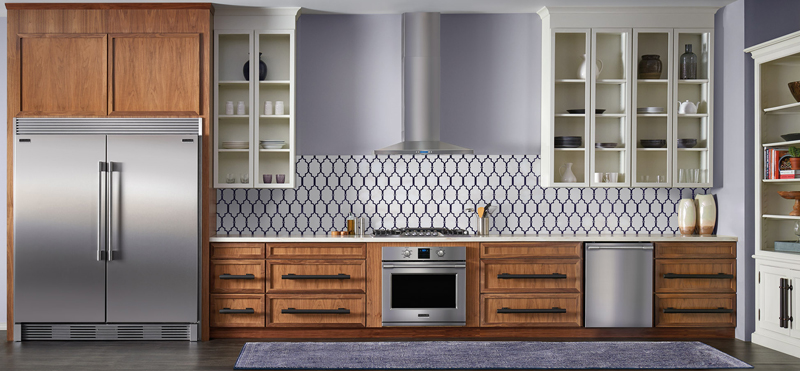 Knowledge is everything when making major purchases. Most conscientious homeowners want value and performance plus the extras that make chores and cooking in the kitchen an enjoyable experience. However, the savvy shopper knows which appliances deliver the experience without the big expense. These are the most beneficial extras that make paying a little more worthwhile:
Ovens
Look for true convection capability with additional features like screen controls located on the oven to guide you with those tricky entrées and dishes.
Cooktops
Glass surfaces with induction cooking capability provide the most amazing feature to hit cooking in the past 20 years. If you prefer gas cooking, look for heavy grates and a variety of BTU burners.
Refrigeration
LED interior lighting and smarter shelving are features that give you more space. You also want ice and water dispensers with solid performance ratings.
Dishwashers
Silence is golden, so look for dBA ratings in the 40's and stainless steel interiors.
Ventilation
This is the one thing everyone forgets until it is too late; find out what your preferences are for your home before you shop. If you don't want the bulky hood in your kitchen, then look for downdraft ventilation.
These features will take you from living with a basic kitchen to one you will love working in for many years. But it does not have to come with a big price tag. Try navigating this market on your own, and you may find yourself with a set of appliances way out of your budget. Or you could stay in your budget, but lack quality and dependability you really desire. The secret is finding the brands that are diamonds in the rough.
One of our favorite brands that offers high-end features without the high-end price is the Frigidaire Professional brand. Frigidaire Professional debunks the myth of high-end equaling high cost because they consistently deliver the extras all of us want without the price tag of a luxury kitchen. Very few brands stand the test of time and deliver so much for such a reasonable cost.