A family kitchen is put through its paces daily. Whether it's serving as a laboratory for young chefs, an eating and gathering place for the whole clan, or a homework station for school kids, the kitchen sees a lot of action. To ensure that your design meets a family's varied needs, consider these moves.
Plan for Young Helpers and Multiple Users
In many households, cooking is a family affair. Create a large island to accommodate two or more chefs. A two-tier setup might work best since the lower side provides a height-appropriate surface for budding cooks to practice their craft. During homework time, the separate levels keep computers and books away from the messy meal prep. A convection microwave oven is a versatile, kid-friendly addition to the appliance package.
Incorporate a Dining/Gathering Zone
So much of family life revolves around the kitchen. To facilitate gathering, line the island with stools or carve out a casual-dining area – or do both. Be sure to choose sturdy, stable stools and chairs that won't topple over as wee ones climb up. To lessen anxiety about spills, opt for performance fabrics, wipeable faux leather, or washable slipcovers.
Select Durable, Hygienic Surfaces
Family-friendly kitchens require forgiving surfaces and fixtures. Quartz countertops are a popular choice for good reason. They are easy to clean and maintenance-free, and they never have to be sealed, unlike marble and other surfaces. Quartz countertops are also nonabsorbent, so they resist staining and won't harbor harmful bacteria. For additional germ control, specify a touchless faucet or one with an antimicrobial finish on the handles.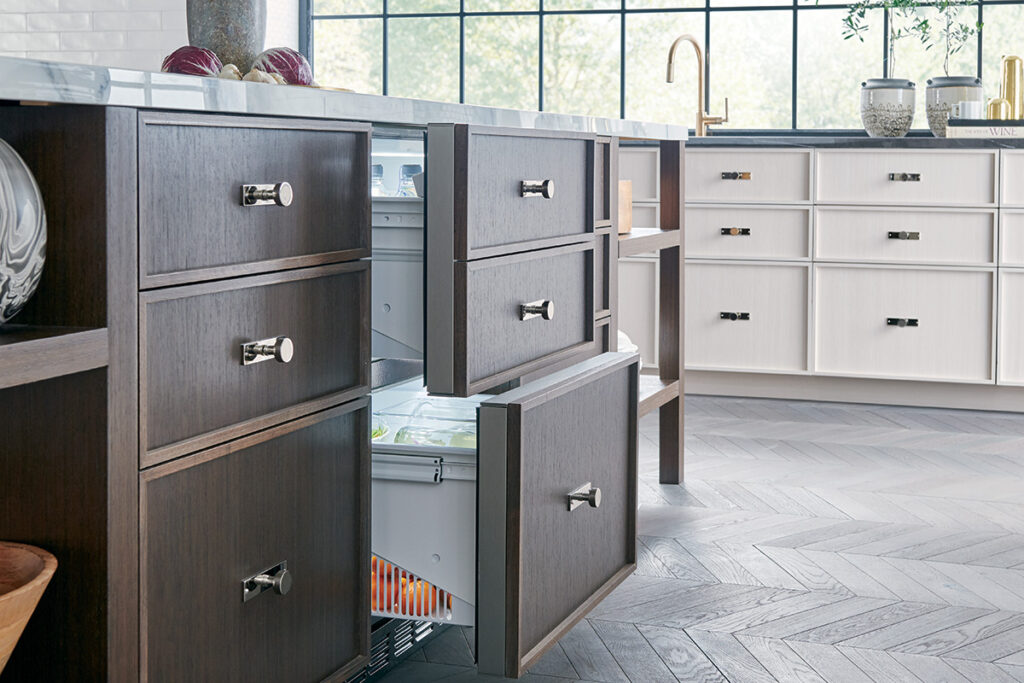 Store Snacks and Supplies Within Reach
Consider the needs of the youngest family members as you organize a kitchen and develop storage solutions. To help kids become self-sufficient, designate an accessible space in the pantry for parent-approved snacks, and add a bin for homework/craft supplies. In the same vein, incorporate an under-counter refrigerator so kids and their friends can help themselves.
Families place many demands on their kitchens. With these tips, your designs are sure to meet the challenge and bring the whole brood together. A Friedman's specialist can help you outfit a family-friendly kitchen.