Fall. The season to enjoy that delicious taste of pumpkin. Here's a wonderfully fast and easy no-bake dessert the whole gang will love.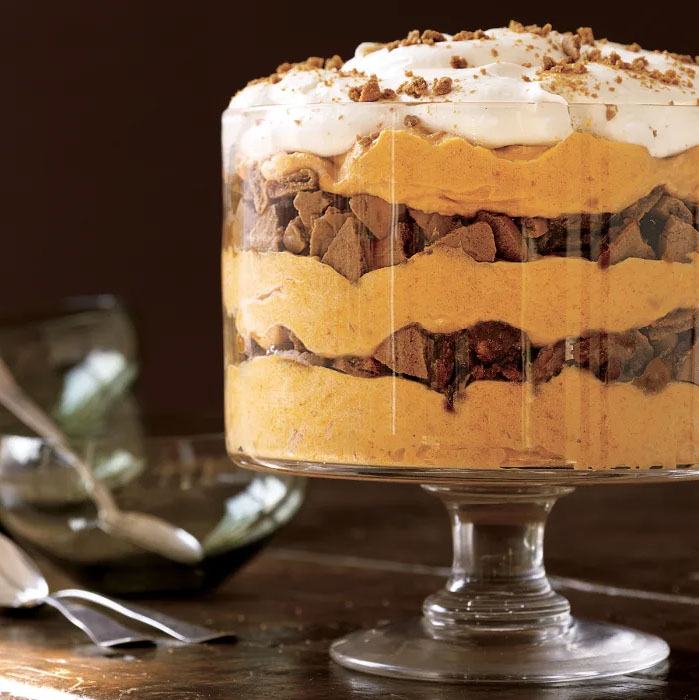 Yield: 8 servings
Prep: 10 minutes
Ingredients
3 cups heavy cream
1 15 ounce can  pure pumpkin puree
1 teaspoon pure vanilla extract
1 teaspoon ground cinnamon
1/2 teaspoon ground ginger
Pinch ground cloves
Pinch salt
1 7-1/2 ounce jar  marshmallow cream
3 cups chopped gingersnaps, plus crushed gingersnaps for sprinkling
3 tablespoons dark rum
Preparation
Using an electric mixer, beat the cream until stiff. Reserve 2 cups whipped cream for serving; refrigerate until ready to serve.
In a large bowl, stir together the pumpkin, vanilla, cinnamon, ginger, cloves, and salt. Fold in half of the marshmallow cream, then half of the whipped cream. Repeat with the remaining marshmallow cream and whipped cream until combined.
In a medium bowl, sprinkle the gingersnaps with rum.
Spoon one-third of the pumpkin mousse into a clear glass serving bowl, spreading evenly, and sprinkle half of the cookies on top. Repeat with half of the remaining mousse and the remaining cookies, then top with the final layer of mousse. Cover with plastic wrap and refrigerate until ready to serve, at least 1 hour and up to 4 hours. Just before serving, top with the reserved whipped cream and sprinkle with the crushed gingersnaps.