All luxury appliance cooktops come in three options: electric, gas, and induction. As an experienced chef, you know that all three have advantages and disadvantages. But what if you are a chef that prefers all three and more? You like the speed and safety of induction cooking, but sometimes you like to walk on the wild side and cook with gas. Or you may enjoy cooking sous vide, but sometimes you can't resist deep frying everything. Wolf is the only brand that lets you customize your cooktop to fit your unique style of cooking.
In addition to electric, gas, and induction burner modules that bring you the best innovations in cooking, you also get to choose from these other unique modules:
Multifunction Module: Perfect your stir fry with a sculpted flame courtesy of a high-output 22,000 Btu gas burner with the innovative "two in one" grate for standard or wok cooking. Clean-up is a wipe away with the seamless, stainless-steel burner pan, and it re-ignites immediately if the flame goes out.
Teppanyaki Module: For those who want to release their inner hibachi chef, this module bridges two independently controlled zones for a more flexible cooking surface. Using induction heat, you can cook quicker with faster preheats and temperature responses. Enjoy easy clean-up with a stainless-steel surface.
Fryer Module: For the good southern chefs, this module makes fried food crispier and lighter without unnecessary grease and ensures shortening and lard don't burn with a special melt feature. Its low profile and stainless steel lid keep your kitchen looking spotless. The module conveniently holds and drains oil with a manual locking drain and also has a lock feature for additional safety.
Grill Module: If you get sad when you can't use your outdoor grill, this module lets you grill year-round. You can use independent heating modules to grill multiple items at once and add flavor and heat with ceramic briquettes. The grilling grates are discreet and seamless keeping the look of your kitchen consistent.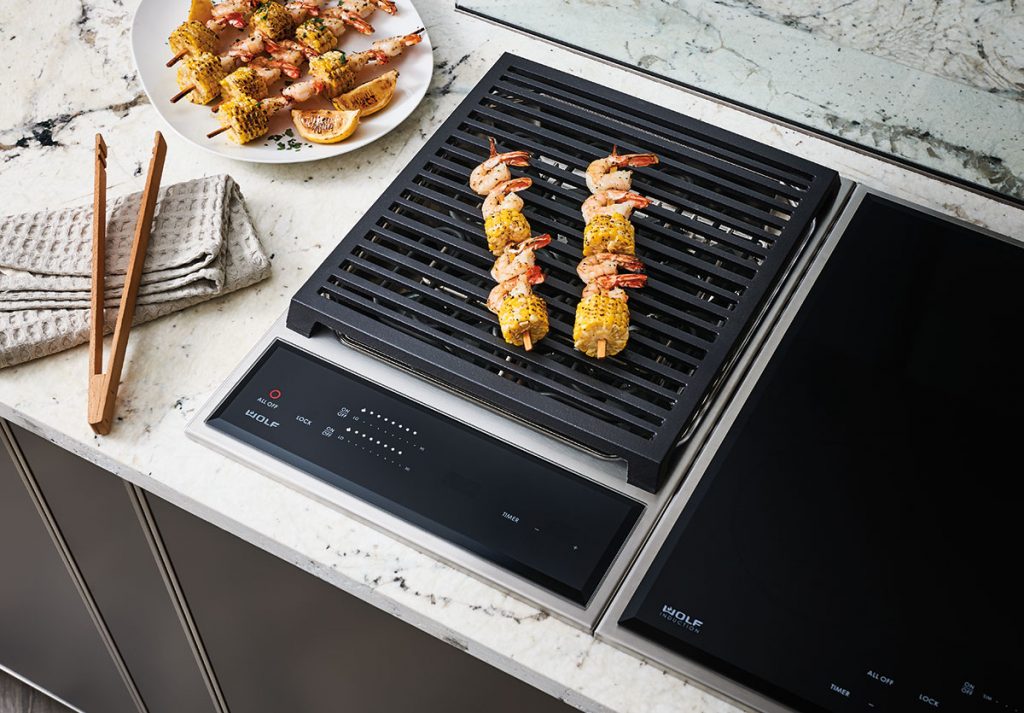 Steamer Module: From steaming meats or grains to melting fine chocolate or proofing bread, this has multiple uses. The powerful 2700-watt heating element increases precision cooking with the ability to adjust in 1-degree increments with 10 preset power levels for sous vide cooking. The module holds steam with the advanced lid seal and can slow cook for eight to ten hours. Release up to 20 cups of liquid in just two minutes with the electronic drain.
No matter what your style, we can help you customize your Wolf cooktop. Now you don't have to choose between your healthy side and your wild side. You can cook any way you want with these unique modules.