Kitchen design is not a one-style-fits-all proposition. Myriad decisions go into the making of a gorgeous, customized space—from cabinet colors to appliance design. To give you the necessary flexibility, Thermador offers two design options: the Masterpiece® and Professional Collections. Take a look here at the hallmarks of each, and then select the appliance style that dovetails with your vision.
Broad Brush of the Thermador Brand
Thermador offers luxury appliances across cooking, cooling, and dish care—in a range of sizes to suit every space. The WiFi-enabled kitchen appliances easily sync to a smart device through Home Connect® and feature voice command and remote control. Both the Masterpiece® and Professional Collections boast the same high level of innovation, performance, and craftsmanship.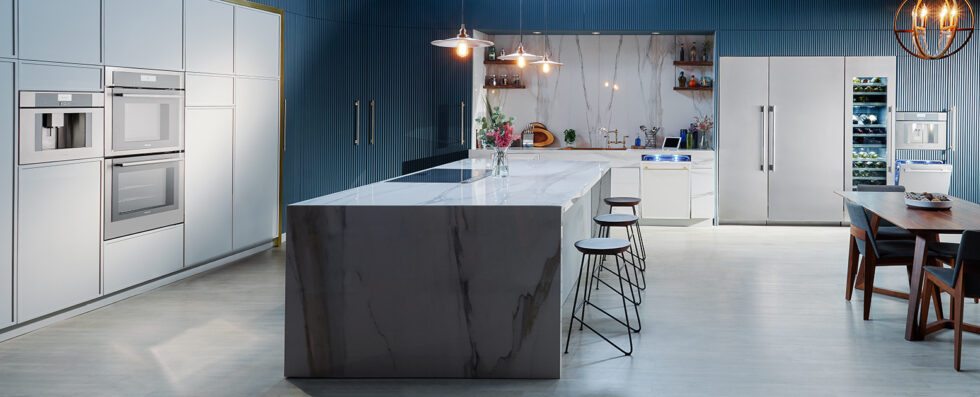 Thermador's Masterpiece® Collection
Appliances from the Masterpiece® Collection fit perfectly in a modern scheme. The collection's sleek, tech-forward design combines metallic silver glass, chrome, and handcrafted stainless-steel accents. A vibrant-color, LCD touchscreen with beveled-edge glass provides seamless, easy control. Executed in brushed stainless steel, its signature linear handles sport chamfered edges.
Your client's cooking style may help guide the collection choice. If the home chef requests a gas, electric, or induction cooktop (in combination with a wall oven), then the Thermador Masterpiece® Collection is the answer.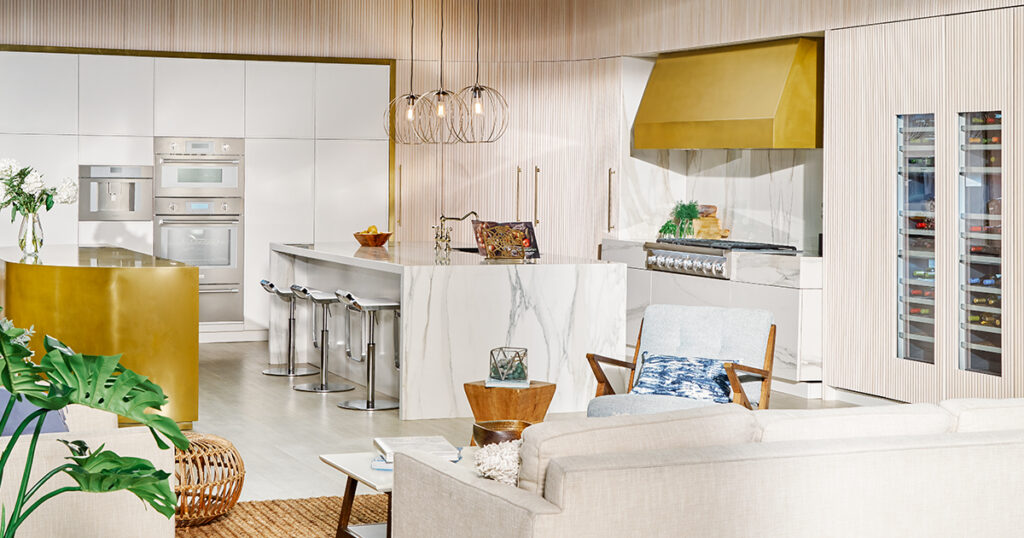 Thermador's Professional Collection
The Professional Collection takes its bold design cues from commercial appliances. For precision control, it marries sturdy, cast-metal knobs with a brilliant touchscreen display. Radial, brushed-stainless-steel handles with polished-chrome, cast-metal endcaps project a robust, restaurant-inspired look. This suite of appliances is ideal for those who seek professional-grade quality and style at home.
When clients prefer to ply their craft on a range or rangetop, look to the Thermador Professional Collection. Both dual-fuel and all-gas options are available.
Specifying the right appliances obviously determines how a kitchen functions. But it also impacts how a kitchen looks. With Thermador appliances, you get performance and style, no matter which collection you choose (or if you opt for an eclectic mix from both). Stop by Friedman's Appliances to see all that the brand has to offer and to study the distinctions between Thermador's Masterpiece and Professional Collections.