You know that one of the most daunting parts of the dinner party is the clean up afterward and running multiple dishwashing loads and hand washing wine glasses all while trying not to make your guests feel hurried out the door. But Thermador has reimagined the dishwasher to suit the needs of anyone who likes to entertain at home. Their new Glass Care Center and Star-Sapphire dishwashers have special features that make cleaning up after a dinner party a breeze.
Glass Care Center
Glass Care Center is the first dishwasher specifically designed to clean glassware as gently as handwashing. Crafted with a tine-less configuration to maximize capacity for wine glasses, beer steins, and more, this glass dishwasher securely washes your most delicate stems while accommodating every entertaining occasion. It can accommodate 26 wine glasses in one load and has several special features:
Built-in Water Softener eliminates spots on glasses for a clean that sparkles.
Push-to-open means that you can open the dishwasher even while carrying a handful of delicate wine glasses.
Extra tall sprinklers and non-slip rubber racks are two more features added for your tallest glasses and most delicate stemware.
Home Connect™ means that you can start and stop the dishwasher from your smartphone and automatically reorder dishwasher tablets using Amazon Dash Replenishment.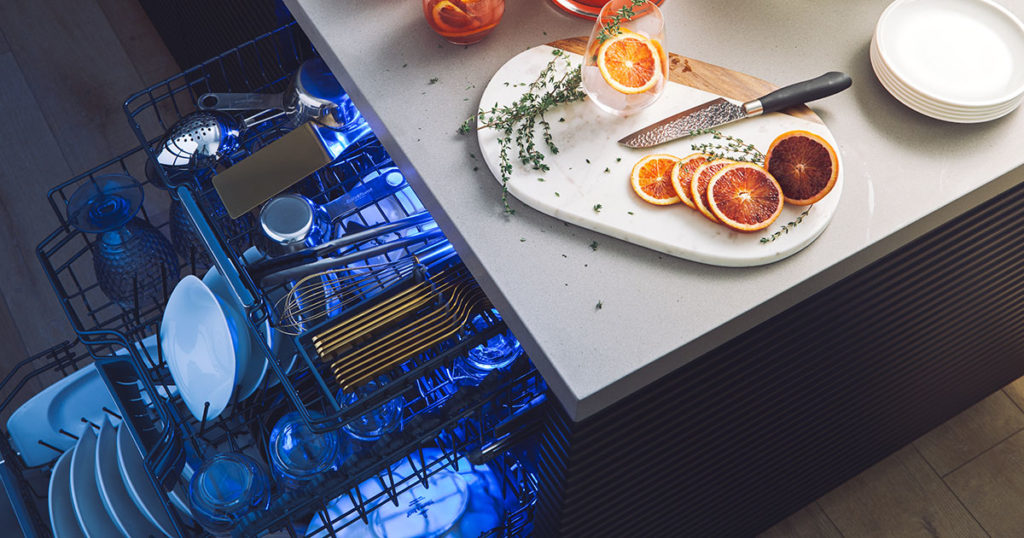 Star-Sapphire
Star-Sapphire revolutionizes your dishwashing experience. These are some of our favorite features:
A 20-minute hot water cycle is perfect for those who need quick turnarounds while entertaining and don't want to sacrifice clean, sparkling dishes.
The Entertainer's Drawer fits into the top of the dishwasher holds every tool in your kitchen from spatulas to ladles to wine bottle openers and gives you maximum capacity for larger dishes.
Home Connect™ includes features like the Easy Start Function, a tab detergent counter, and the option to change the colors of Star Glow through the app.
Smooth Glide Racks minimize friction and noise so that you can load the dishwasher without interrupting the post-dinner conversation.
So stop fretting over the after-dinner party clean up, and come into Friedman's Appliances to see all of these luxurious features in person. We can help you find exactly what you need to fit your dinner entertainment style.