Open floor plans are more popular than ever and the kitchen shares space and design elements with the dining room and living room. Fusion is a key word and shows the mix of function as well as design elements that are going to be popular in 2020.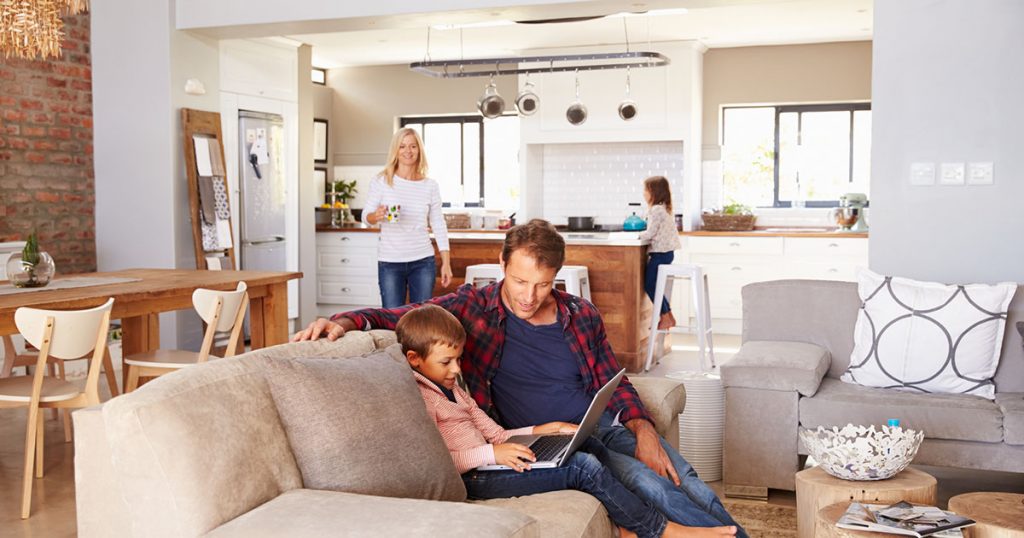 Color trends allow for all sorts of styles and mix several elements. Muted greens and blues are the trending colors, and Pantone also announced Classic Blue as their color for 2020 with many designers adding this color to cabinets and even appliances. White kitchens will never go out of style, but designers add unique elements like hand-made tiles to keep the look fresh. Black and white kitchens also remain popular, and designers are adding elements like reclaimed wood, glass or contrasting copper metal. Wallpaper is also getting an update for the new decade. The designs are more modern, and the paper is easier to remove.
Fusing finishes and textures helps keep any design well-balanced. Marble and granite remain as standards in the kitchen, and quartz is also increasing in popularity. But designers are adding metal accents in bronze and copper to warm the cold stones. Wood also enters into the design to bring softer and more natural elements.
Kitchen islands are a big trend that continues to grow. The islands are getting bigger and doing double duty by providing seating and cooking power. If designed correctly, cooking becomes a team sport where everyone can play a part or watch the magic happen.
One-wall storage units are becoming a major focal point. Whether it's a wall of cabinets or a wall of glass shelving, lighting is a big part of making these design elements work. Open plate racks and open shelving are also popular because they create an interesting look while also being practical.
Kitchen larders are also making a comeback from their days as the food storage option before refrigerators. Smaller spaces that lack the room to do a walk-in pantry can get a good amount of storage from these larger, double-wide cabinet spaces that make a statement. You can find these as stand-alone pieces or built-in cabinets.
The fifth wall in the kitchen is the ceiling, and it's a great place to add some interest to your design. This could be by painting it a contrasting color or adding a texture element like wood.
If part of your kitchen update includes appliances, Friedman's is here to help. We are tracking all the latest Appliance Trends for 2020 as well. We have exactly what you need in your kitchen that will last through the next decade.