Monogram Luxury Appliances are designed with the serious cook in mind. With features inspired by those found in commercial kitchens, these luxury appliances marry professional-level performance with exquisite design. And with two distinct styles to offer—Statement or Minimalist—your kitchen appliances can reflect your style while supporting your gourmet aspirations.
Every kitchen needs the basics: appliances that help you cook, cool, and clean. Monogram offers a full lineup of beautiful and powerful ranges, cooktops, wall ovens, column refrigeration, and dishwashers. But for the serious home cook, you want more—more power, more options, more features—and that is where Monogram shines. Here are some of the innovations that make Monogram uniquely designed for serious cooks.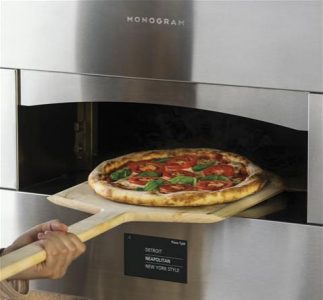 30″ OPEN HEARTH OVEN
Monogram's Hearth Oven with a brushed brass finish is a showstopping addition to any kitchen. It combines the performance of traditional wood-burning hearth ovens with the precision and ease of a luxury appliance. With rapid cooking times, you can enjoy a variety of foods—from pizza to roasted vegetables or whole fish—with ease and elegance.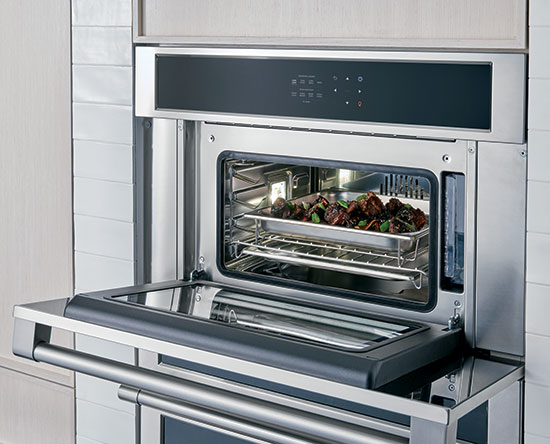 30″ CONVECTION STEAM OVEN
You already know that steam delivers excellent cooking results. With Monogram's Convection Steam Oven, you will have the ability to utilize multiple cooking options: full steam, True European convection, broil, and combination cooking.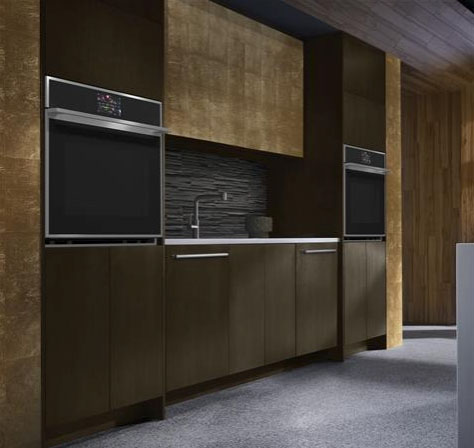 30″ SINGLE WALL OVEN
Monogram's Single Wall Oven offers a seven-inch brilliant LCD screen that displays precision cooking modes. It also features Direct Air convection, soft close hinges, and self-clean smooth glide racks. The Minimalist Collection oven also features a clean, handleless appearance with push- and voice-to-open functionality.
30″ FRENCH DOOR WALL OVEN
Inspired by similarly styled ovens used in commercial kitchens, the French Door Wall Oven belongs in any gourmet kitchen. Key features include an LCD display, guided cooking instruction with easy-to-use precision oven modes, Direct Air convection, twin fan convection, beautiful dual-cabinet French-style doors with easy single-hand opening, LED lighting, and self-clean smooth glide racks.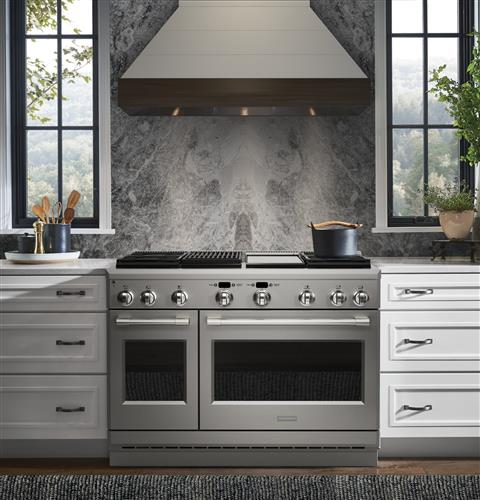 MONOGRAM'S 48″ PRO RANGE
With a versatile cooktop gilded with brass dual-stack and multi-ring high output burners and mixed metal knobs with a solid brass blade, this range is the centerpiece of your kitchen. With an articulating seven-inch LCD display that rotates for optimal use, hot air fry settings, precision oven modes, custom accent lighting, soft close hinges, and self-clean smooth-glide racks, this pro-range is a coveted standout for any chef.
Monogram delivers professional-level performance while reflecting your unique style in your kitchen. We invite you to visit Friedman's Appliances to explore all that Monogram has to offer.