Image from Benjamin Moore
It seems the major paint companies are trying to tell us something. Collectively, they delivered a potent message with their 2022 Color of the Year choices: Green is here to stay for the foreseeable future. And judging from the top picks of powerhouses Benjamin Moore and Sherwin-Williams, calming shades particularly resonate right now.
Benjamin Moore Makes the Case for October Mist
Benjamin Moore's 2022 Color of the Year is October Mist 1495, a soft sage green with a dreamy quality. The versatile hue establishes a quiet design backdrop that pairs nicely with any of the other 13 shades in the brand's recently announced Color Trends palette. The paint leader describes their selection this way: "Evoking the silver-green stem of a flower, October Mist creates a canvas for other colors – and your imagination – to blossom."
October Mist allows for creativity and interpretation while instilling the soothing comfort you may be seeking at home. When specified for kitchen cabinets, the malleable shade can lend a somewhat retro vibe or lean in an organic-modern direction, depending on your space.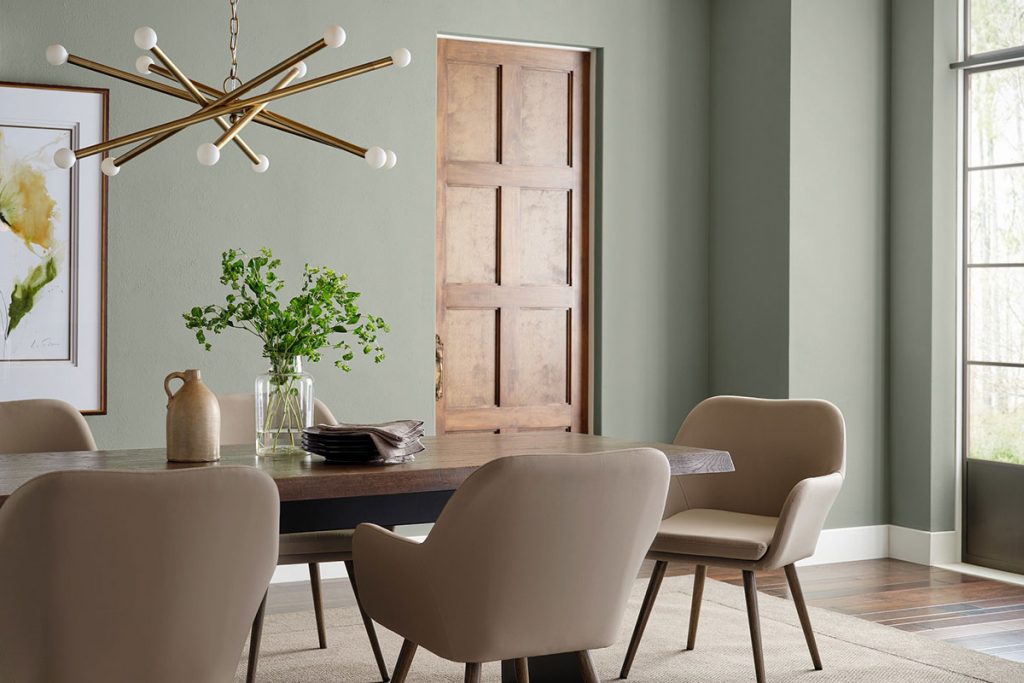 Image from Sherwin-Williams
Sherwin-Williams Shines a Spotlight on Evergreen Fog
Sherwin-Williams revealed Evergreen Fog SW 9130 as its preeminent paint color for 2022. The mid-toned, gray-green shade encapsulates our desire for rebirth as the new year approaches. According to Sue Wadden, the brand's director of color marketing, "Evergreen Fog inspires us to begin again and is a great choice for modern interiors and exteriors."
Painting the walls this tranquil hue will transform almost any space into a restorative sanctuary. Combine the subtly sophisticated shade with warm metal finishes and natural materials in your kitchen.
Continuing the Green-Is-Good Thread
Other paint brands also looked to the green color family as they awarded their 2022 top picks. PPG bestowed the honor on a lush Olive Sprig shade, while sister-company Glidden selected a zesty Guacamole paint hue. Behr cooled things off with their choice of Breezeway, a sea-glass-inspired tint.
The color green—in its myriad, borrowed-from-nature shades and saturations—may be just what your cooking space needs for the coming year. A Friedman's specialist can help you find the perfect appliance and hardware finishes to complement your green-tinged schemes.