Kitchens work hard these days, serving as entertaining hubs in addition to their traditional meal-time functions. A secondary kitchen or walk-in pantry can help keep the main space party-ready and less chaotic. Consider incorporating one into your designs.
BENEFITS OF A BACK KITCHEN
No wonder walk-in—and work-in—pantries are among the most popular kitchen trends. These supporting spaces offer a host of advantages that make daily life and entertaining easier. Day-to-day, they supplement storage space for food, beverages, and household supplies and hide small appliances out of sight so the primary kitchen remains clutter-free. They're perfect for housing serving pieces, glassware, and other entertaining accouterments not used on a regular basis.
During get-togethers, a wet pantry provides a covert food-prep zone to keep the mess off the kitchen island and serves as a holding area for prepped foods. It's also a tucked-away space for stacking dirty dishes until clean-up time.
PLANNING AN AUXILIARY KITCHEN SPACE
It pays to take stock of the items to be stored before configuring a walk-in pantry. You'll want to know how the homeowners plan to use the space. A well-equipped second kitchen or scullery might include a:
Mix of storage solutions—open shelves, cabinets and drawers, appliance garages, and cubbies with baskets or bins
Countertop or movable work station
Fully outfitted coffee bar
Second sink and dishwasher
Rolling library-style ladder for reaching upper shelves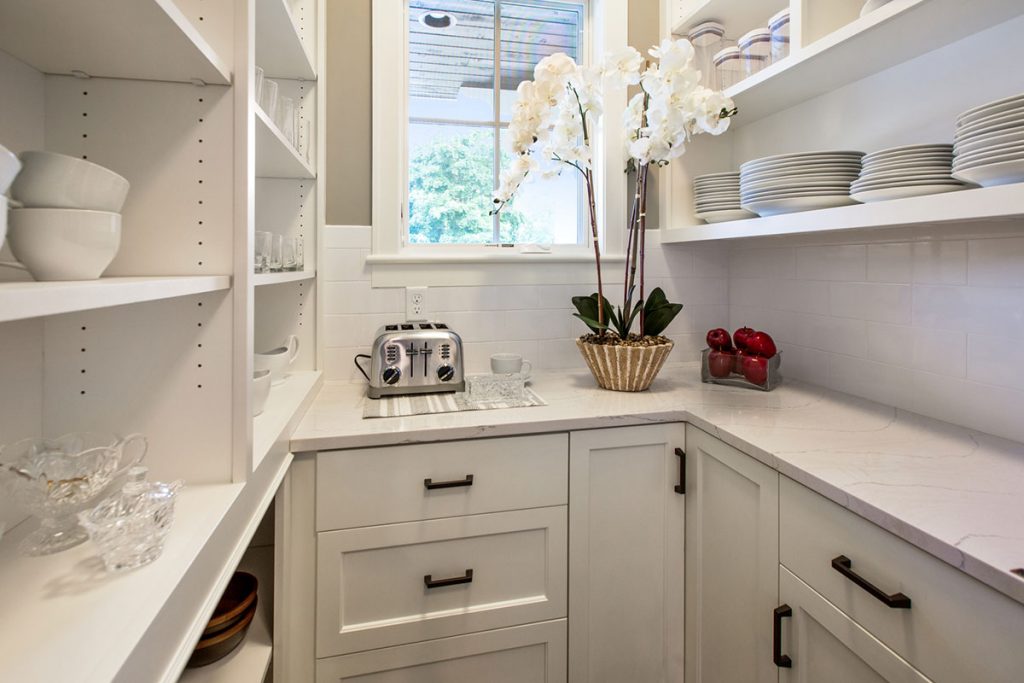 TAKING A WALK-IN PANTRY FROM PLAIN TO PRETTY
A pantry space or prep kitchen doesn't have to be nondescript. There are plenty of ways to add a designer touch. Concealing the paneled pantry doors within a wall of kitchen cabinetry provides a uniform, high-end look. Continuing the kitchen's countertops and cabinetry into the pantry further streamlines the aesthetic. Or have fun in the secondary space and take a few design liberties that might seem too heavy-handed in the main kitchen, such as lacquering the cabinets in a vibrant jewel tone.
A walk-in or wet pantry can be a welcome, problem-solving addition to any kitchen plan. Let a Friedman's specialist help you equip a high-functioning, secondary space.