When you help clients design their dream kitchen, a lot of factors come into play. However, one important concept often goes unaddressed and encouraging your client to consider this issue could help them get more out of their groceries in the long run. According to a 2020 study, the average U.S. household wastes nearly one-third of its food at a total annual cost of $1,866 per household.
No homeowner enjoys having to toss expired ingredients or spoiled leftovers. Thankfully, Bosch Home Appliances has developed refrigeration features and designs that can drastically cut down on how much food your client's household is throwing away. The manufacturer's high-end German-engineered refrigerators prove that the right appliances can play a big role in cutting down on food waste. Here are some key factors to encourage your clients to consider when discussing food preservation options.  
Organization
Three in four Americans believe that they waste food because they forget it's in their refrigerator or it gets lost among the clutter. Features that enhance organization in the refrigerator can make it easier for your clients to keep an eye on the freshness of their ingredients.
The innovative FlexBar™ from Bosch allows homeowners to turn unused areas into convenient storage spaces for eggs, condiments, and more.
MultiAirFlow™ technology evenly circulates cool air throughout the entire refrigerator cavity, allowing home chefs to organize items based on convenience and visibility rather than temperature concerns.
Bright LED lighting provides maximum visibility throughout the entire interior to prevent spoiled food from going unnoticed.
Three-tier shelving on the Bosch French-door models allows consumers to easily open the freezer and view its contents.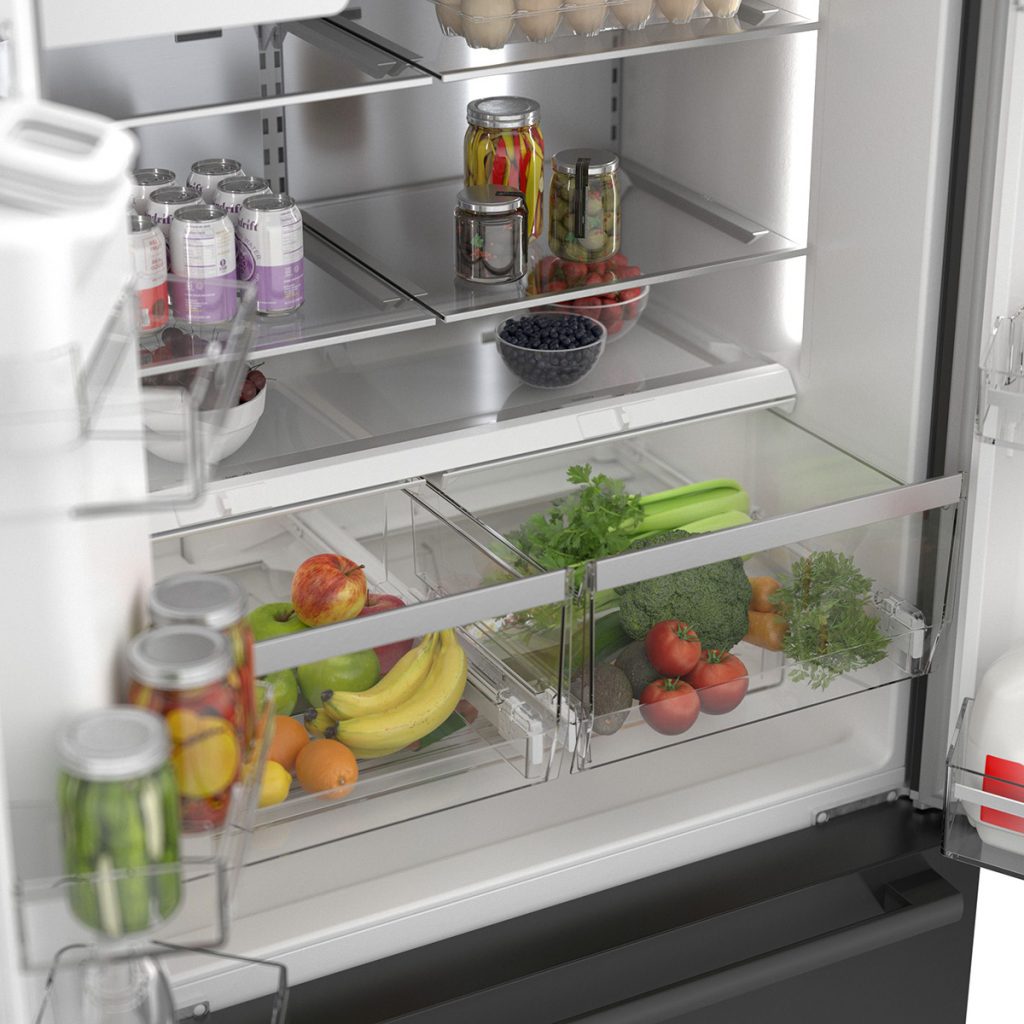 Know Where It Goes
Often food can spoil simply because it hasn't been stored in the proper location. Some of the most common items that Americans waste, like strawberries and leafy greens, require the perfect environment to prevent them from going to waste.
Bosch refrigeration offers a FarmFresh System™ that combines four innovative technologies to keep your client's food fresh for up to three times longer.
VitaFreshPro™ technology allows consumers to select from pre-programmed settings that automatically adjust the temperature and humidity to further preserve specific items.
The FreshProtect™ filter slows down the ripening process and extends freshness by absorbing naturally occurring ethylene.
Dual compressors and dual evaporators offer efficient and precise cooling and humidity control, creating two independent cooling zones.
Smarter Appliances
Web connected appliances have brought more convenience and efficiency into the lives of home chefs, and the Bosch's Home Connect™ app offers features that can help clients cut down on food waste immensely. This innovative app allows consumers to perform actions such as controlling the temperature and running diagnostics remotely from a smartphone or tablet. Users can even receive a notification on their phone if their refrigerator door is open for an extended time.
With 43% of all food waste coming from homes, proper food preservation is a topic that is worth bringing up to every client. Bosch Home Appliances' innovative refrigeration technology can allow homeowners to preserve freshness and cut down on food waste like never before. Visit our showroom with your client today to experience these impressive features first-hand.