As summer winds down, we enter into that magical time of the year known as Football Season. Whether you have tickets to the game or not, you can still enjoy the tradition of tailgating on gameday. All around Knoxville, getting together to watch the game is an all-day event, as friends and family gather in parking lots and backyards to eat, drink, and cheer on the Vols. We've gathered a few tips to help you get ready for this year's season:
Preparation Is Key
Prep the night before by marinating meat on skewers. You can also slice and prep toppings for burgers and dogs. If you put them in tin foil pans, it's portable, presentable, and easy to clean up. Plus nobody wants to slice and chop in a parking lot. Freeze water bottles the night before, and they will do double duty for you the next day.
Pack Strategically
The canned and bottled drinks go on the bottom and then top with a layer of ice. Pack other items for the cooler in sealed containers and bags. Remember: a full cooler stays cold longer. If you plan to tailgate every weekend, pack portable plastic drawers or a big toolbox with all your supplies. Always bring extras of everything because nobody wants to close down the trunk to make a grocery store run.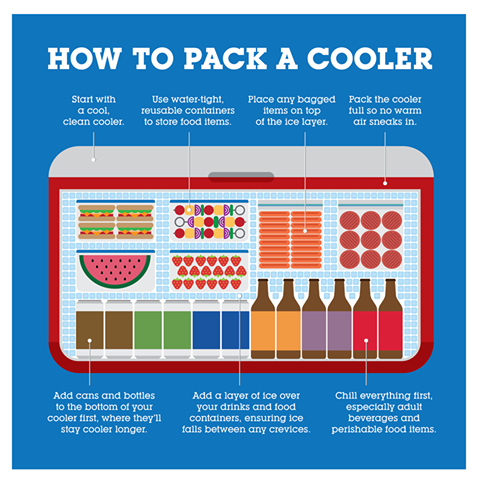 Recycle and Reduce
Recycle a six-pack cardboard carrier into a condiment holder with ketchup and mustard squirt top bottles. Turn a cup carrier from a fast food restaurant into a veggie tray. Add the cut veggies in three plastic cups, and use the fourth holder for the dip. You can also reduce waste by using bread bowls for the chili instead of paper bowls.
Team Spirit
Anytime you can incorporate orange and white, go for it. You may have a special drink or a decorated cake. You can also order tattoos sporting the orange and white or use grill toppers to mark your meat and cheer on your team. Any flags, banners, or balloons also serve as great ways for your friends to find you.
AV
Bluetooth speakers are great for listening to the game. Or if you want to watch and not just listen, plug in a TV – today's TVs are lightweight enough to take with you, and with an adapter or a generator, you'll have power running in no time.
Outdoor Comfort
Pop-up canopies provide shade and keep the glare off your TV. And there are lots of options for easy to pack portable chairs, so you can sit back and enjoy your tailgate.
Relax and Have Fun
Get to know your neighbors and spend time together. Watch out for each other and be safe. Tailgating is not just a one-day event; it's a lifestyle. And…Go Vols!