When designing a kitchen, you carefully select appliances that will bring ease and enjoyment to your client's life. But are you leaving untapped potential on the [kitchen] table? Many of those appliances could also change the game in other spaces throughout the home.
MUDROOM SNACK CENTER
The key to a successful mudroom is ample storage for backpacks, coats, cleats … and snacks. Incorporating a Sub-Zero refrigerator drawer in your cubby design will enable kids to grab cold beverages and bites as they rush out the door to soccer practice and such. The panel-ready options can integrate seamlessly with the mudroom's millwork.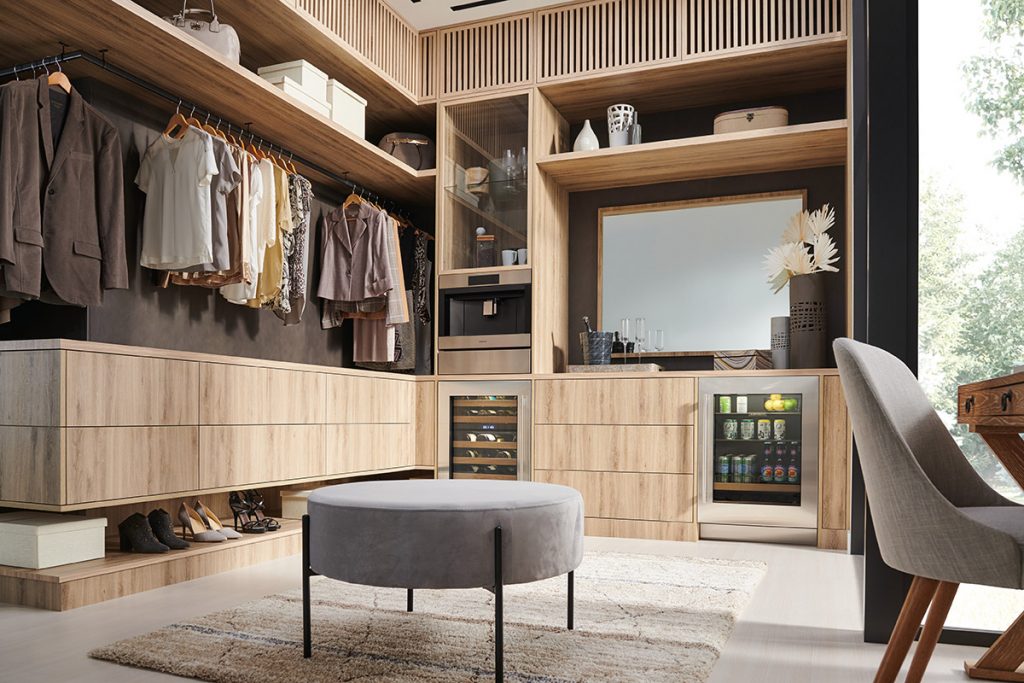 OWNERS' SUITE BEVERAGE BOUTIQUE
Devise a bedroom beverage set-up that covers all the bases, from waking up to winding down. Wolf's built-in coffee system, available in either black glass or stainless steel, brews an eye-opening cappuccino. Pair it with an under-counter wine storage unit from Sub-Zero for cocktail-hour convenience.
MEDIA ROOM CONCESSIONS
What's family movie night without popcorn and drinks? To equip a media-room concession counter, start by tucking Sub-Zero's 24-inch beverage center underneath. The center's glass door displays the offerings, yet the interior's adjustable stand-by lighting won't disrupt the movie-theater ambiance.
HOME GYM HYDRATION STATION
Every well-equipped gym considers the exerciser's hydration needs. Adding an under-counter refrigerator from Sub-Zero, offered in stainless steel or panel-ready options, keeps water and electrolyte liquids close at hand.
BATHROOM SPA AMENITIES
Recreate the spa experience at home by fitting the owners' bath with pampering appliances. A warming drawer from Wolf luxuriously heats towels, while a Sub-Zero refrigerator drawer chills beauty products, such as face masks and jade rollers, to a soothing temperature.
POOL HOUSE REFRESHMENTS
Swimmers and loungers seek cover from the sun and cold drinks in the pool house. Make sure the poolside retreat is ready by including a Sub-Zero beverage center in the kitchenette design. The center's UV-resistant glass door protects its contents from potentially damaging light.
Appliances from Sub-Zero and Wolf can extend function—and a touch of indulgence—well beyond the kitchen walls. Bring a list of spaces that you're outfitting to the Friedman's showroom for help selecting those that suit your client's lifestyle.