Farmhouse kitchens emerged in the early aughts in homes well beyond the countryside. Indeed shabby chic design carved out a design space all its own as DIY designers and interior design pros alike created looks that appeared elegant yet effortless. And while the rustic farmhouse kitchens of the early 2000s have long since been retired, the more refined farmhouse kitchen is still very much "a thing." It just has a more elevated feel. Think European farmhouse instead of a dusty country homestead. In short, the farmhouse kitchen has grown up and has a tasteful new aesthetic.
So what does a modern farmhouse kitchen entail? Look for bold, chunky butcher block islands with seating for loved ones to gather. Enjoy colorful cabinetry mingling with natural wood hues. Chunky rough-hewn beams hover high above the ground. And well-appointed spaces are flooded with natural light.
Here are some of our favorite features of the modern, elegant, all-grown-up farmhouse kitchen.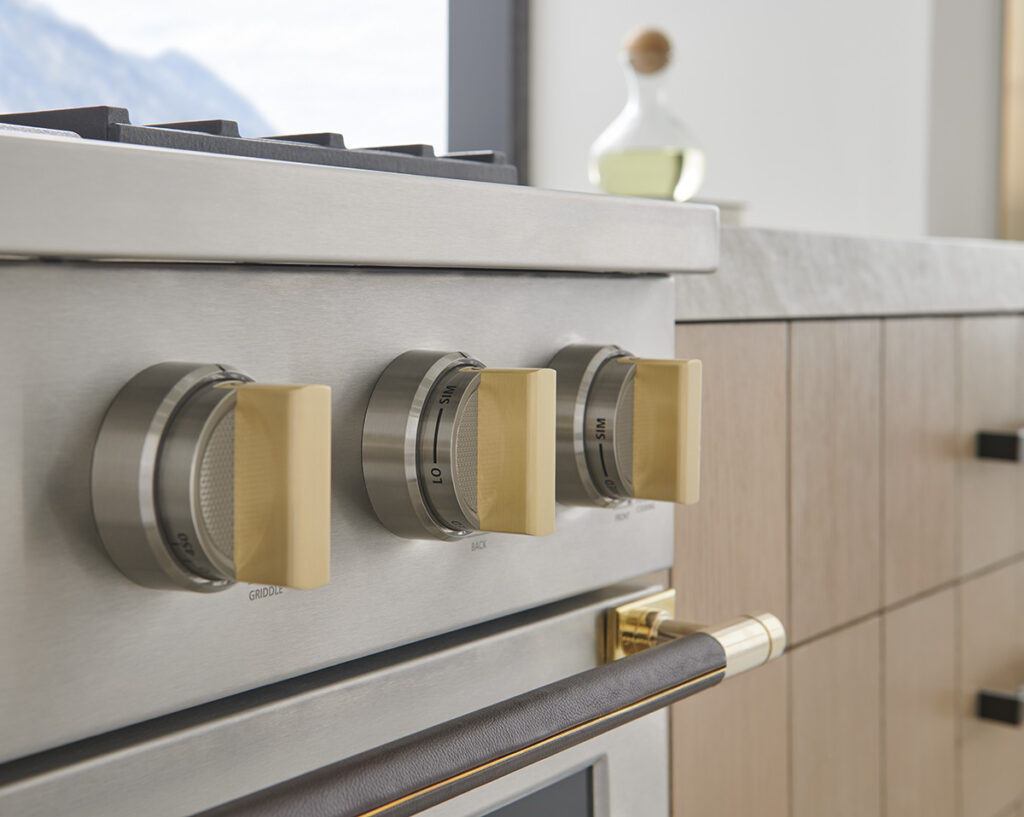 All About Brass
Today's tastemakers incorporate elevated features in their farmhouse kitchen designs. Think brass, brass, and more brass. Monogram's new Designer Collection showcases some of the most tasteful displays of the alloy in its new brass collection. Picture ventilation hoods and refrigerator panels as well as leather-wrapped handles with brass accents. This collection pairs perfectly with rich, creamy cabinet colors or the deeper natural wood finish of a large kitchen island.
Here are some more examples of how to tastefully incorporate brass into your farmhouse kitchen design.
Speaking of Islands…
To maximize functionality in the kitchen, an island is a perennial favorite—additional seating and expanded workspace being two key reasons why. Level up a kitchen island by adding a butcher block top to bring both form and function at once as it triples as a cutting board … a very large cutting board!
These kitchen workhorses are refined yet rustic and are still very much enjoying a moment. Take a look at some Instagram inspiration:
Get Creative With Lighting
Most designers will tell you that they love to play with their designs—creating intriguing juxtapositions with patterns, colors, and styles. Adding chandelier lighting in a modern farmhouse kitchen, for example, may seem an odd choice, but somehow it just works.
Find more fun, yet tasteful lighting inspiration from Instagram. Some of these incorporate multiple farmhouse kitchen facets at once.
Whether you're creating a modern farmhouse kitchen or a sleek, modern dining space, make your client's kitchen a room where they enjoy spending time and making memories. And when it's time to outfit the kitchen with the premium and luxury appliances that make creating meals a breeze, call on the experienced professionals at Friedman's Appliances.