Knowing how to choose the right ventilation system for your kitchen can be the difference between a clean space or greasy cabinets and a smelly house. As your kitchen design starts to become reality, it's important to focus on how to reduce the negative effects of cooking when shopping for venting.
Hoods are either ducted or non-ducted. A ducted system removes smoke, odor, humidity, and heat and expels it outside the home. A non-ducted system captures grease and odor then recirculates the filtered air back into the kitchen. Which type you choose may depend on the complexity of your kitchen project or the location of the kitchen as it relates to exterior walls.
What Are Your Options?
Under-Cabinet Hood – With varying price points, under-cabinet hoods are available in both ducted and non-ducted models. These models are good for retrofitting an existing space or when a ducted model isn't an option.
Chimney Hood – Add an elevated look to your kitchen with one of these ducted hoods. Chimney hoods perform at a higher level, offer great task lighting, and absorb more grease and oils. Some even have heat sensors that know when to turn on during more intense cooking.
Custom Hood – If your kitchen design features a custom-built hood, you'll need a hood insert. Hood inserts allow you to customize both the look of your hood and the features of your ventilation system.
Downdraft Ventilation – Perfect for an island or a minimalist style kitchen, downdrafts offer a very sleek look. This narrow vent is installed in a base cabinet behind the range and with the click of a button it pops up to remove steam and grease.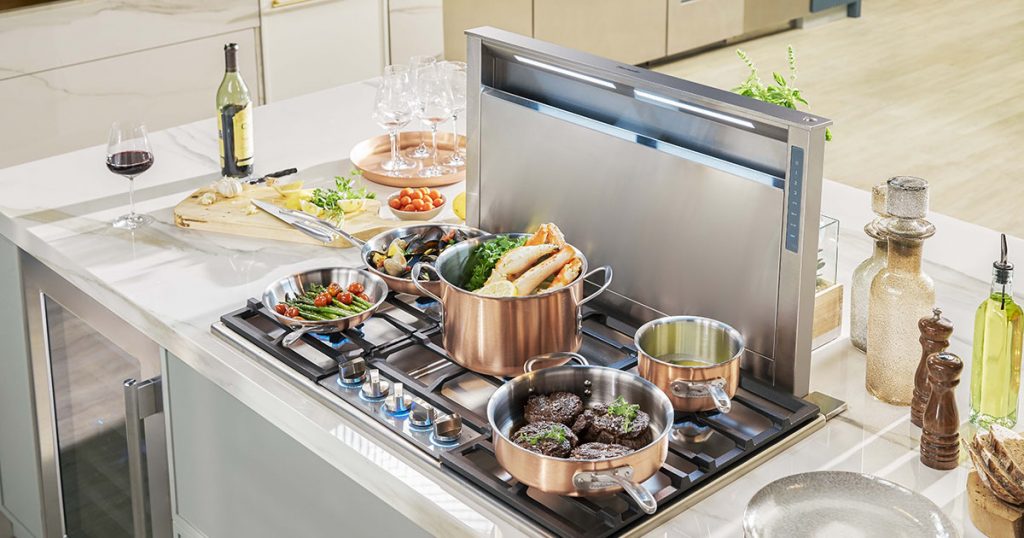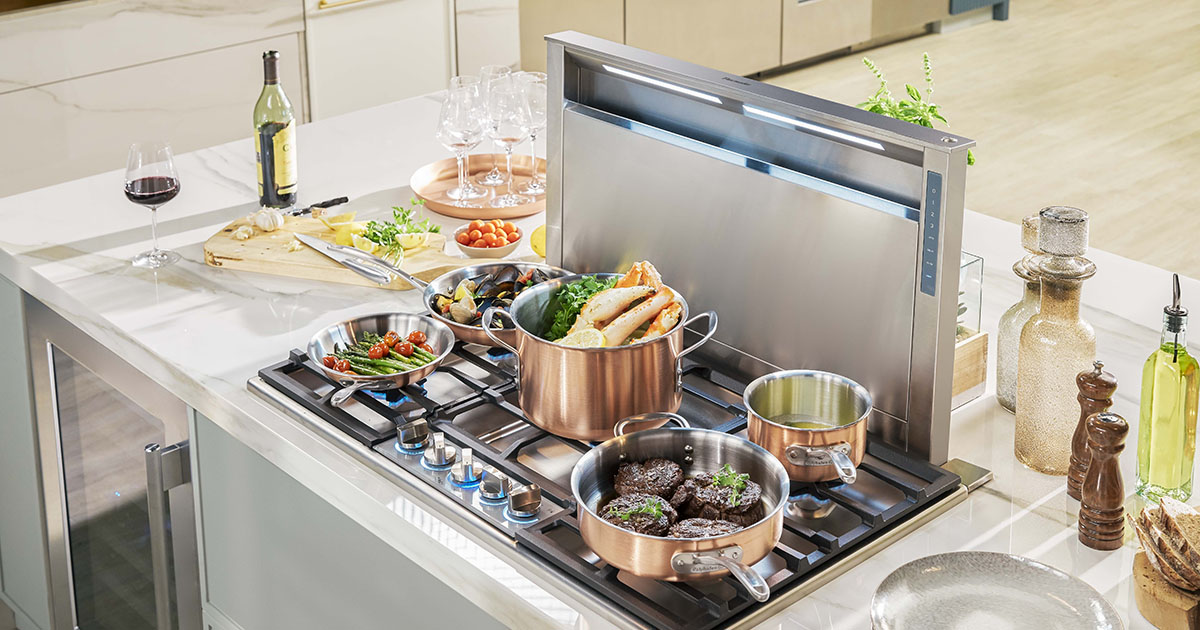 Other Details to Keep in Mind
When you've decided which type of vent suits your kitchen design, focus on the CFM (Cubic Feet per Minute) level. This tells you how much air a hood cleans per minute. The Home Ventilation Institute recommends 40 CFM at a minimum for every linear foot of your range. We recommend you check the manufacturer specifications for your range to learn their recommendation.
The last feature that's often forgotten is the sone or decibel level of your appliance. The last thing you want is to complete your dream kitchen, only to have your hood fan echo throughout the house. As a rule of thumb, the lower the sone level (4.0 or lower), the better.
For more information and expert advice, visit our showroom and we will help you pick out the perfect vent for your kitchen!