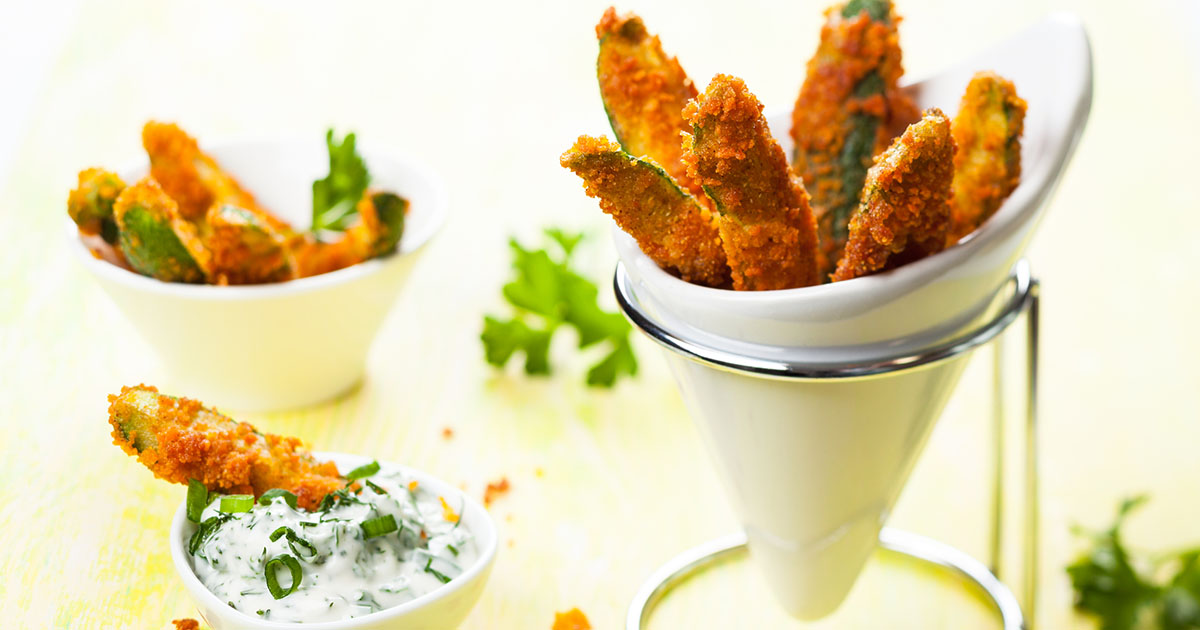 INGREDIENTS
1 large Zucchini
4 eggs
1/8 cup Water
1 cup All-purpose Flour
1 tbsp. Cornstarch
1 cup Plain Panko Bread Crumbs
1 cup Plain Bread Crumbs
1 cup Grated Parmesan Cheese
1 tbsp. Garlic Salt
1 tbsp. Lawry's Seasoning Salt
1 tsp. Black Pepper
Non-stick Cooking Spray
DIRECTIONS
Wash the zucchini thoroughly and cut off the ends.
Slice zucchini into 3/8 thick sticks.
In the first bowl, place the flour and cornstarch and whisk. In the second bowl, place eggs and water and whisk. In the third bowl, place bread crumbs, parmesan cheese, garlic salt, seasoning salt, and pepper and whisk.
Spray the Air Fry Tray with cooking spray and set aside.
Dip the zucchini sticks into the flour mixture first, and then dip them into the egg mixture. Finally, dip them into the bread crumb mixture.
Place the sticks onto the oiled Air Fry Tray and preheat oven to Air Fry 375°F.
Place the Air Fry Tray in the center of the oven and cook for 10 minutes or until crispy.
PRO TIP
Air fryer ovens eliminate the need for another countertop appliance by putting the same technology right in your oven. Learn more about how to get the most from your air fryer oven with these helpful tips from the experts.