If your client loves to cook and wants a chef-worthy kitchen, a professional-style range is likely a given. Beyond that, Monogram offers an array of cooking appliances to consider when kitting out a gourmet kitchen.
INDUCTION COOKTOP
Satisfy cooks who are short on time with Monogram's induction cooktop. Each four-element or five-element model includes a 3700-watt module that's designed to boil water in a blink. Safety also ranks high among the advantages of induction cooking. The surface stays cool to the touch until the pan fully connects and the pan's handle remains cool.
Monogram's induction cooktop comes in two finishes: the silver pairs well with light-colored countertops, while the black provides visual continuity with darker surfaces.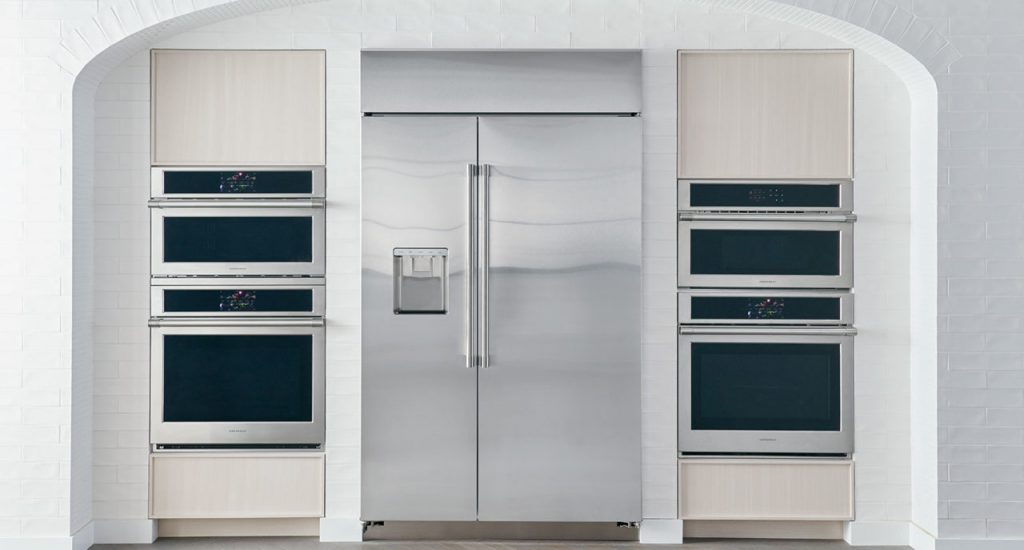 5-IN-1 OVEN WITH ADVANTIUM® TECHNOLOGY
Another great option for home chefs who prioritize speed is Monogram's five-in-one oven, which operates four times faster than a conventional oven. The Advantium® appliance combines the power of halogen light with convection and microwave technology to cook foods evenly. In addition to offering convection and precision-cook settings, the multifunctional and space-saving oven microwaves, warms/proofs, and toasts.
Depending on your parameters, choose a wall oven (offered in 30-inch and 27-inch widths) or the 30-inch, above-the-cooktop model.
DOUBLE WALL OVENS
Monogram's double convection ovens meet the capacity requirements of clients who often cook for a crowd. French doors, inspired by European pastry chefs, are a practical, industrial-chic option for the upper wall oven. They open in unison with one hand and mean no more leaning over a pull-down door.
The French-door model addresses space concerns too. With two doors that swing to the sides, it requires less clearance room in front than a standard model.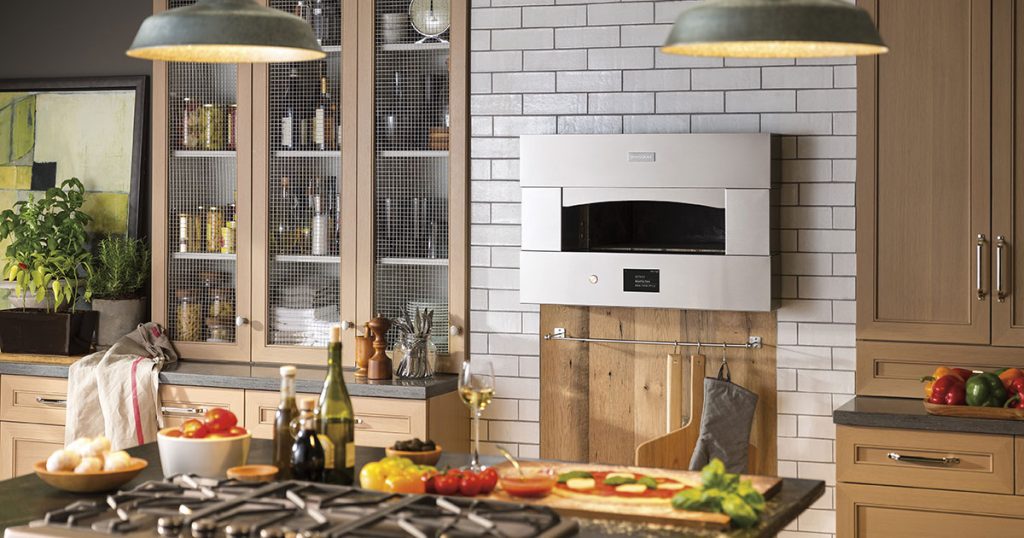 HEARTH OVEN
Dedicated foodies and pizza devotees might prize Monogram's electric hearth oven, which replicates the results of a wood-fired brick oven with precision and ease. In addition to turning out perfect pizzas and artisanal breads, the handcrafted oven can also roast vegetables or a whole branzino in record time.
Sporting a brushed stainless-steel exterior, the chef-cred oven recesses into a 30-inch cutout. Thanks to an integrated ventilation system, no additional ductwork is required.
Thoughtfully designed appliances from Monogram add functionality and style to a gourmet kitchen. Drop by our showroom for help specifying pieces for your epicurean clients.