Home bars are in hot demand these days. Are your clients among those seeking a stylish space that turns the cocktail hour into a special occasion? To whip up a dazzling drink station, mix these essential ingredients and spike your concoction with a fresh trend or two.
Pretty-and-practical Storage
A combination of open and closed storage offers the most flexibility. Blend solid base cabinets with either glass-front upper cabinets or floating shelves. Trends to try: Lacquer the cabinets in a brilliant jewel tone for full-on glamour; consider glass or reclaimed wood for the shelving.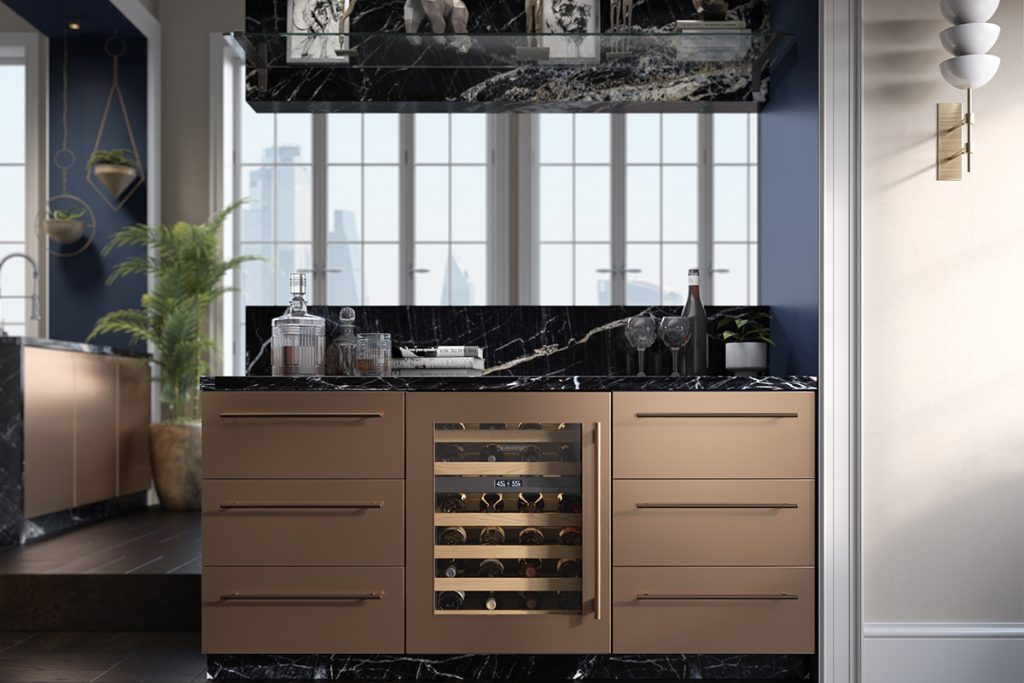 Beautiful Bartop
The home mixologist needs a functional work surface, of course. A cocktail station offers the perfect opportunity, however, to splurge on a luxurious material that your client might veto in their larger, hardworking kitchen. Trend to try: Specify marble or soapstone to strike an upscale note.
Statement Wall
Exercise a little poetic license in your bar design. Set off the cocktail area by installing a bold tile or wallpaper along the back wall. Trend to try: Instill sophistication and increase visual depth by choosing a mirrored backsplash.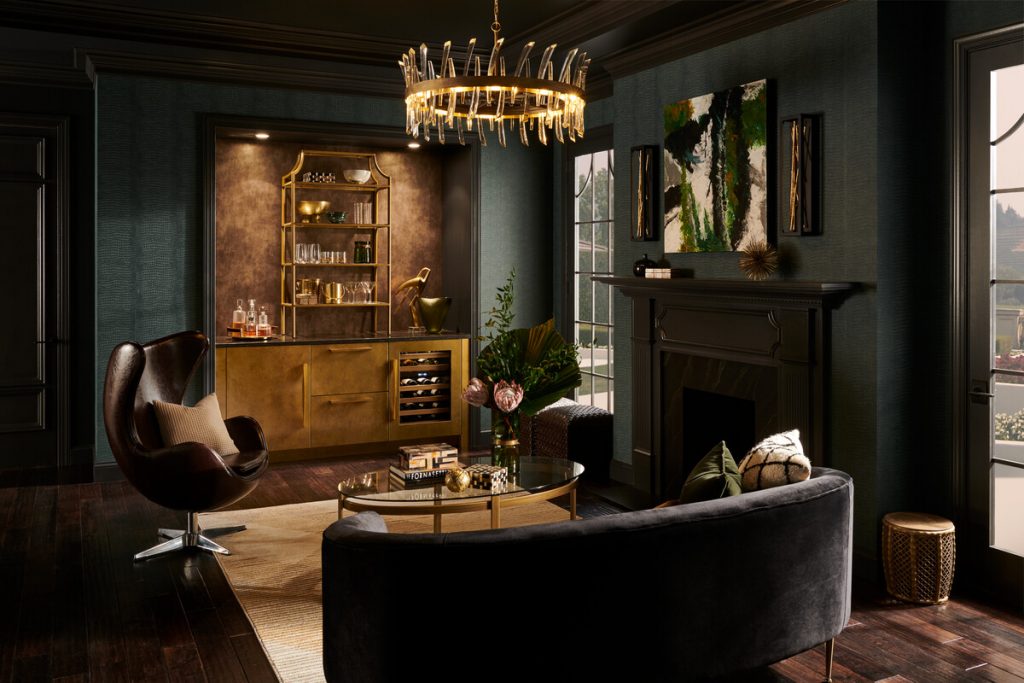 Mood Lighting
Combine the right lighting to create a club-like ambiance. Start with an overhead fixture that dovetails with your desired aesthetic. To enhance the vibe, add undercabinet or in-cabinet lighting and/or illuminate the open shelves. Trend to try: Source a vintage chandelier for a conversation-starting look.
Metallic Accents
Glitz up your bar design with metal fixtures and hardware. Including a distinctive finish—such as hammered brass or copper for the sink—will give the station an extra edge. Trend to try: Mix two or more metals to up the interest; matte black and gold are a fashionable combination.
Appliance Amenities
Choose appliances according to your client's drink preferences. For the wine enthusiast, an undercounter wine cooler is a must. The mixed-drink aficionado will appreciate a refrigerator drawer to keep chilled ingredients close at hand. Trend to try: For next-level luxury and convenience, add a dishwasher that accommodates stemware.
A swanky bar set-up can recreate a night-on-the-town experience at home. Let a Friedman's specialist help you equip your client's cocktail zone.