While the kitchen island is perfect for grab-and-go moments, nothing can compare to gathering family around a table and enjoying an unhurried meal in a comfortable setting. Decidedly more approachable than the dining room but not as unceremonious as an island, the eat-in kitchen fits today's relaxed lifestyle. Look to these beyond-the-basic approaches as you dream up casual dining spaces.
CONSTRUCT A CUSTOM BANQUETTE
Once the domain of restaurants, built-in banquettes are popular in homes now—and for good reason. The bistro-like feature stylishly maximizes a kitchen's footprint, expands seating, and creates a sense of intimacy.
Choose the configuration that best suits the space, whether it's a straight or curved bench along one wall or an L-shaped banquette tucked into a corner. In an alcove, install two built-in benches facing each other or fill out the space with wraparound seating. Whatever the banquette specifications, nestle storage drawers underneath for added functionality.
You can replicate the built-in look by sourcing or designing a banquette to fit the area. Or simply place an upholstered bench or plush settee at the table.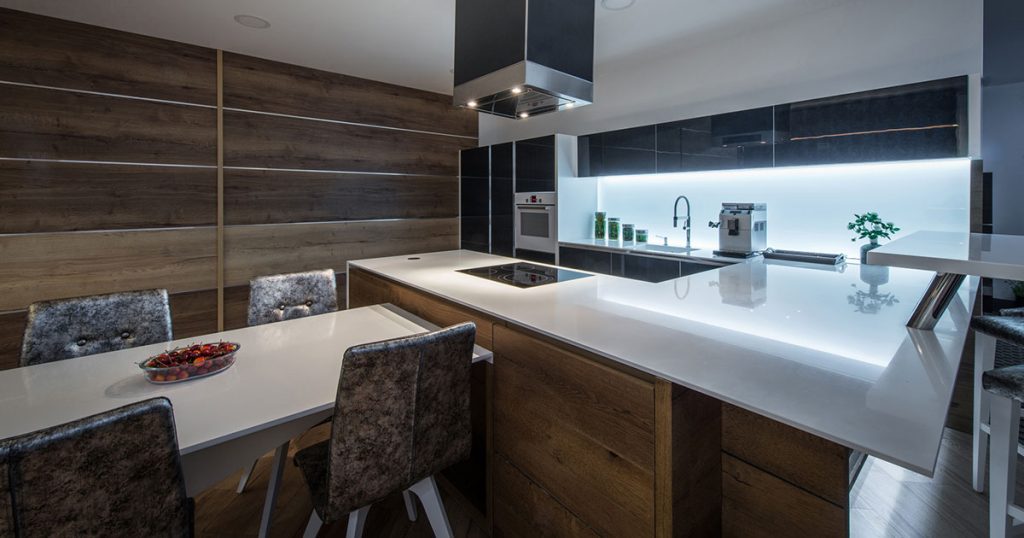 INTEGRATE THE ISLAND AND TABLE
Incorporating a table in your island design is a streamlined approach. It also enhances convenience, expands the potential work zone, and increases near-at-hand seating options (in many design scenarios, you can still line the island with bar stools).
Extend the island surface onto the table to create a clean look or specify a contrasting material, perhaps a warm wood, for the tabletop to add interest. You'll want to lower the table section to 30 inches, down from 36 inches at the island, to accommodate standard-height dining chairs.
Simulate this efficient set-up—and establish a somewhat homier vibe—by positioning a free-standing table against the island.
BUILD SEATING INTO THE ISLAND
Another consolidated option to consider is a built-in bench along the island. This clever fusion offers the same benefits as integrating the table and also can coexist with bar stools for the greatest flexibility.
This past year reinforced the importance of a home that supports our daily life. Eat-in kitchens provide laid-back spots for families to enjoy everyday meals. With these strategies at your command, you can craft an inviting space in your client's kitchen.