Sustainability is a buzz word thrown around a lot in the home design industry, and it likely holds significance for you. You read labels and do research to understand the products you buy, from food to clothing to appliances. You care about what you bring into your home and what you put into your body. You want to make the world a better place. So why not support a company that holds these same values? For Electrolux, "sustainability" isn't a trendy idea, it's a way of life.
Swedish Roots in Sustainability
Sweden has been called the most sustainable country on the planet. Electrolux, founded in Sweden more than 100 years ago, values sustainability just as much as its country does. Caring for the environment is in their DNA. They are proud of their Swedish roots and committed to their identity as the sustainability leader for appliances. Electrolux believes small changes can make big differences, whether at the corporate level or within your home. That's why they are committed to better living.
Electrolux's Mission
What does better living through sustainability mean? For Electrolux, that's a multi-layered mission involving production, community, and the home.
Sustainability starts at the top, and Electrolux will be a climate-neutral company by 2050. It's an ambitious goal to be sure, but great strides have already been made—in 2020, they reduced greenhouse gas emissions by 70% compared to 2015! They strive to use more recyclables in their products, make their products more recyclable (creating a circular product), and have the supply chain, including delivery, be more environmentally friendly.
A sustainable environment that doesn't take into account the human cost isn't truly sustainable. That's why Electrolux is also committed to creating a culture and environment in which ethics, diversity, and human rights are front and center. Being committed to better living isn't just for consumers, it's for employees as well. You can feel good about not only how the products are manufactured, but who is doing the work.
For Electrolux, sustainability goes beyond the company and into the homes. Empowering and enabling people to live out sustainability on a personal level in the home is yet another small change that can make a big impact.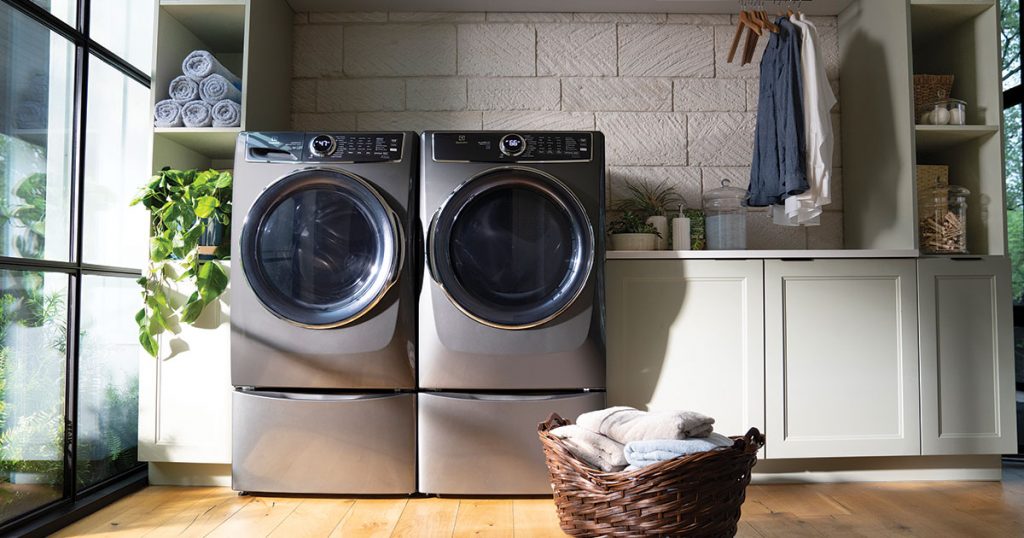 Electrolux Appliances In Your Home
If you turn off the water while you're brushing your teeth, will you save the water on the planet all by yourself? No. But if everyone does this small thing, it would absolutely make a huge impact. That's the driving innovative strategy behind Electrolux appliances in the home. Here are just a few ways their appliances make a sustainable lifestyle easy for you.
French Door Refrigerators are certified energy efficient and feature Auto-Close Doors to prevent wasted energy from doors left slightly open. Additionally, they reduce food waste by maximizing the life of fresh food with TasteLock™ Crisper Drawers and TempAdapt™ Drawers.
Wall Ovens offer features such as No Preheat and Advanced Convection, which can reduce cook time and energy used. Other options such as Air Sous Vide and Steam Bake technology prevent overcooking, which means you are likely to eat more of what you make.
Washing Machines are energy efficient, use less water, and prolong the life of your clothes. When clothes last longer, you not only keep them out of landfills, but you also reduce emissions required to produce more clothing.
When you're ready to explore Electrolux's sustainability-leading products and see how they can benefit your lifestyle, consult with the knowledgeable team at Friedman's.